Intelligent Video Solutions (IVS) launches the ROAM: Camera Cart for flexible video capture solutions.
The ROAM: Camera Cart is an ergonomic cart that was designed to move to any room, to stream and record video and audio, while providing live feedback capabilities. Previously launching the ROAM product line in 2022, IVS now offers ROAM: Camera Cart with multiple power options for increased mobility. See our full ROAM Solutions offerings here.
ROAM: Camera Cart is fitted with a Pan-Tilt-Zoom camera and microphone. The cart can utilize the full power of your VALT system. Offering simple and secure video capture features for live observation and recording simulation sessions, interviews, and training/assessments in multiple locations.
Different models can be customized to fit the necessary workflows of your environment. Options provide built-in speakers for talkback to give users live feedback and direction. Various network connections and power options.
These features mean users do not have to compromise on getting high-quality video and audio to improve skill development and learning. Deployable camera options that can be moved throughout spaces and from multiple rooms. Request a quote here.
Product model comparison, dimensions & specifications:
ROAM: Camera Cart can be fitted with a variety of power options and network connections. Each model highlights a unique power source (PoE, Electrical Outlet, Battery Power) that promotes either ethernet or wireless network connections. Built-in speaker available for electrical and battery-powered models provides talkback capabilities, used for feedback and direction. A battery power source provides over 15 hours of operation, allowing users full mobile flexibility to move throughout facilities from room to room.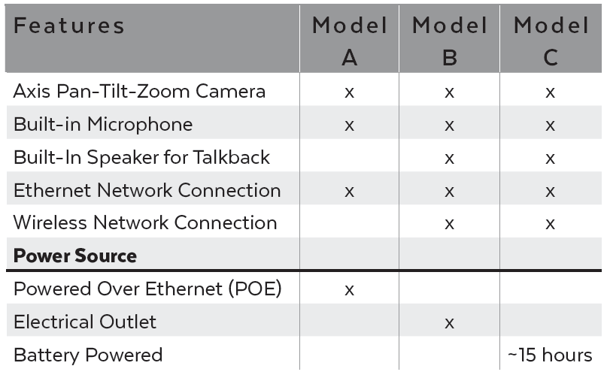 Base of Top Pole: 68.7" H

Tall Extension Pole: 29.2" L

Base to Handle: 39.5" H

Large Utility Box: 5" W x 8.6" L x 2.3" D

Base Length: 17.7" x 17.9"
Common applications that can utilize ROAM: Camera Cart
Video is used as a proven tool to better educate, train, and research for multiple organizations. IVS provides reliable and easy-to-use video solutions that empower users to create better learning, training, and research outcomes. Now ROAM: Camera Cart offers more flexibility to customize how to use video capture to fit your needs.
The ability to change camera views within a given space or move from room to room can better fit applications that need more adaptable video capture. Applications that have more unique/changing environments where a fitted camera location is not optimal for multiple viewing positions can utilize ROAM: Camera Cart.
Examples of applications include:
In situ training/simulation

Neo-Natal Resuscitation /observation

Resident Supervision

Family Observation

Patient Observation

Flexible Space

In-transit Simulation/observation

Rehab Gait Training

Child Advocacy Forensic Interviews

Distributed Focus Groups and Product Testing
ROAM: Camera Cart from Intelligent Video Solutions extends the capabilities of high-quality video and audio. If you're interested in learning more about ROAM Carts, contact us today or request a quote.