INASCL will be in Milwaukee this June and IVS is not only exhibiting but will be hosting an event called Taste of Milwaukee at the 3rd Street Market Thursday June 16th 5:30 pm - 8:00 pm.
Organized to bring together healthcare professionals from all over the country, INASCL presents the latest methods, best practices and technologies in simulation. Providing networking opportunities for those in healthcare to advance their own facilities simulation. Our premiere software, VALT, is a purpose built platform to improve the outcomes for nursing and healthcare simulation assessments and practices. We will be exhibiting VALT at the show.
We are also excited to host our own event happening during the evening after the show on Thursday the 16th to bring together Nursing professionals to get a closer look at VALT, who we are and how we can help, and to discover what Milwaukee has to offer. We are hosting 'Taste of Milwaukee' at 3rd Street Market Hall located in downtown Milwaukee.
The event will be open for registration to INACSL attendees and will feature a variety of activities and food/beverage vendors. IVS will camp out in the middle turf section to hand out drink tickets to the bar, play cornhole to win additional prizes, and answer any questions you have about how VALT can improve your simulation. Throughout the Hall there are a variety food vendors to try and we have reserved a golf simulation deck and a selfie museum to enjoy a unique experience to take pictures with a plethora of goofy and interesting backdrops to share our experience.
Click the link button to register for Taste of Milwaukee here.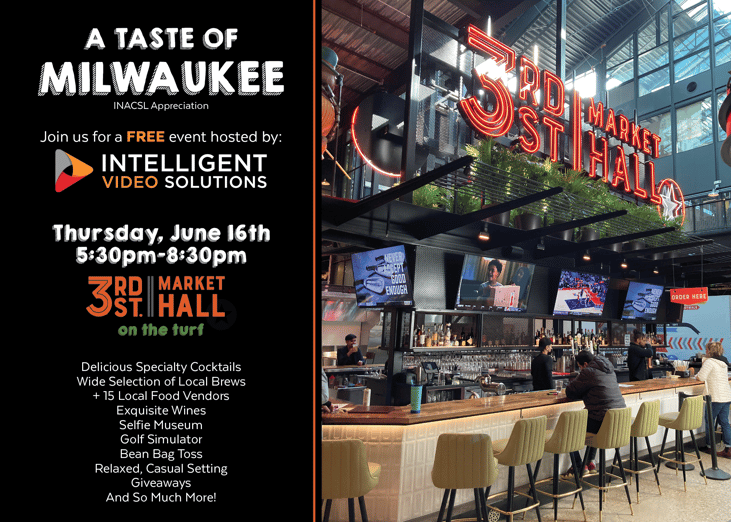 VALT, is a purpose-built A/V platform for helping students/trainee's develop skills, retain knowledge, and stay engaged while providing the trainers/students with more perspective and gain resources to more effectively manage and assess simulations. The VALT solution makes video observation and recording simple and effective yet provides powerful tools to meet all the confidentially and security needs.
Many administrators are using the built-in scheduler feature of the software, which allows users to pre-enter their recording sessions into the system, enabling VALT to begin recording automatically and stop at the time indicated by the user. All video recording sessions are tagged with "session data" which assists in categorization and allows users to locate any individual session with ease.
Once installed, VALT dramatically improves the user experience by freeing up both faculty to view live and recorded video on any part of the network for which they have permissions. Departments are able to reclaim physical space that otherwise was dedicated to equipment or often underutilized physical observation areas.
To learn more about INACSL 2022 and view the full event details, click here.
Click the link below to find out how the right audio/video capture solution enhances healthcare training and higher education.